Both squirrel and snake start with the letter "S." That is your Sesame Street announcement of the day. Beyond this, there is only one resemblance…they both are pretty nifty distractors.
I came upon this photo on Facebook, posted by a group out of Botswana that I follow: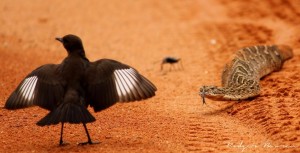 This, naturally, got me to thinking about my very own Puff Adder Encounter of the Too Close Kind. And, then, off I went, into a completely different direction than I had previously intended.
Until 1993, when I had the once-in-a-lifetime opportunity to visit Africa, I had never heard of a puff adder. Sure, I'd heard of, seen, and even handled (under supervision) other venomous snakes, but the puff adder was a new one for me. I was on a summer hiatus from my studies at the Naval War College. During this break, I went to Southern Africa for 7 weeks with my beloved Mom, the person-to-whom-she-was-married-at-the-time-but-who-shall-not-be-named and a couple of family friends. For purposes of this tale, I will refer only to Mom Broad and the others by name. I'll just omit Dunderhead altogether. As it should be.
I flew into Johannesburg, South Africa, where I was immediately and irrevocably bitten by the Africa bug. A one-night layover ensued, followed by an early morning flight to Namibia. I was beyond my bad self excited, so sleep eluded me. Seven weeks of adventure awaited. I was ready!
I met up with the rest of my party in Windhoek, Namibia. From there, we drove around the country for a week or so, taking in some unforgettable sights, sounds and flavors. As an aside, the first animal I saw was a Hartmann's Mountain Zebra. I about fell out of the VW bus with sheer joy! Remind me to circle back to Namibia to tell the tales of diamond divers, jackass penguins, Norwegian naval officers and watering holes. For now, I'll just skip to part 2 of this trip.
We had the opportunity to travel to the Skeleton Coast. Do the google…it was amazing. The Skeleton Coast was pure, unadulterated, untamed wilderness. At the time (and I hope to this day), there were no hotels, resorts, or anything remotely "civilized." There were, however, some "concessions:" primitive camps owned by enterprising safari companies for the purpose of providing a rare glimpse into this magnificent corner of the world. And, by "safari," I do not mean the animal killing kind. The only way to see this part of Namibia is by guided safari tour, with very few permits given to tourists. I recently read that only 800 or so are granted a year, to keep the Skeleton Coast as pristine as possible. One of the goals of our little group was to see the elusive Skeleton Coast elephants. They were all seasoned Africa travelers – I had only been to Northern Africa prior to this, so I was pretty much rootin'-tootin' excited to see anything.
We boarded the Cessna 210 that was to be our air transportation for the next 5 days. Our first stop was the northern reaches of the Skeleton Coast and our final destination for the next two nights was the Kunene River camp. The Kunene River forms the northern border of Namibia with Angola. We landed on a dirt airstrip and then had a bouncing 2-hour ride to the camp. It was like riding over the surface of the moon. The Rover that was our ground transportation had a bench seat affixed to its roof, as did all the Rovers owned by this particular safari company. Aha! The roof seat became my perch for all land excursions.
The Kunene River camp was remote, primitive and stark…immediately disliked by one member of our group. I loved it! I had my own tent and the toilet enclosure was a mere 30 yards away from my accommodations. There was also a porta-potty in each tent, for those who didn't care to venture far from their safety at night.  The shower tent was off in the other direction…and water was heated by the sun during the day in canvas bags. Water was limited, as you can imagine. The dining enclosure was a large, open-sided tent on a concrete pad overlooking the Kunene River. I enjoyed hanging out there – when I wasn't exploring. It was a beautiful place to have coffee in the morning before anyone else awakened. I spotted birds, smaller mammals, and, along the banks of the river below, crocodiles. This is also the first place I saw the Southern Cross. I looked into the night sky, with ZERO light pollution, and gazed upon it. I cried.
Daytime excursions included a boat ride on the river (we did cross over into Angola, and thankfully were not shot), a day trip to the roaring dunes, and hikes in the immediate area of the camp. I lived in shorts and huge hiking boots during the day, every day. For nighttime attire, I brought a skirt or two, t-shirts and a pair of sandals. I knew I'd need to get out of my dust-covered clothes (to wash them!), rinse the schmutz off myself and wear sandals to let my tootsies breathe. At this particular camp, I'd hit the shower immediately before sunset,  while the water was still warm. There were candles in the shower, which  I regretted lighting  on the second night as everything in there was covered with beetles. To make the most of trhe limited water available, I'd also  take my dirty clothes to  wash and rinse.
Freshly showered, I'd emerge in my skirt, t-shirt and sandals and wander up to the dining area for "sundowners." Mom and I spent some lovely moments together, watching the last bit of sunlight dance on the river, listening to the various critters and having an adult beverage to toast the completion of another wonderful day. Our  pilot, Deon, was also  our main travel guide, Rover driver, etc. He was a hoot – superb sense of humor. He and I got some fairly good bantering back and forth – all in good fun.
On the second and last night at the Kunene River, we had a lovely meal. The evenings were chilly, but we had some propane lanterns at the edges of the concrete pad for light and very minimal warmth. We also had thermoses of coffee, tea and  hot chocolate near the  lanterns. After dinner, the dining pavilion became the parlor – we all sat back, talked about the day behind us and the day to come, and maybe even had a nightcap!
Deon was giving me crap (and I back to him) when, all of a sudden, he became extremely quiet. He looked at me and said, "put your feet on the bench, quietly and quickly." I was going to respond with some mouthy retort about not knowing he had a fetish of that nature, until I saw his eyes. Gone was the teasing, and in its place was something else. I picked up my sandal-clad feet and placed them on the bench.  Just as I did so, I saw something shadowy under the table, right where my feet had previously rested. Moments later, a large snake emerged from the other end of the table and wrapped itself around one of the thermoses.  I'm not a snake-a-phobe, but this one was huge.  And poisonous! Deon looked at the reptile in question and announced that it was a puff adder. That didn't sound too fearful – Puff was also part of the name of a fictional, cannabis-induced magic dragon. I believed he'd fooled me into acting like a girly-tourist.
Deon and one of the camp workers fetched a rake and shovel and dispatched the snake.  I would have preferred them to let it live, but they explained that it was bad for business! Can't have snakes get comfortable enough to mingle with the paying guests, then bite them. Had I been wearing my franken-boots, I may not have been in any peril, even if the snake had slithered right over my feet. My choice of sandals for evening footwear seemed silly that night.
After removing Mr. Snake from the parlor, Deon told us about puff adders. They are cytotoxic, meaning that the venom attacks the surrounding tissue and cells, causing necrosis. Left untreated long enough, the victim could perish. Or lose a limb. Puff adder bites are less fatal than those of neuro-toxic snakes. I asked what could have been done, had I been bitten. Nobody else was near the snake, so it was unlikely that anyone else would have been struck, given the puff adder's slither-path. Deon said they would have driven me to the landing strip, taken off an unlighted strip in the dead of night, and would have hoped to have gotten me to a hospital. A hospital that could treat such bites. I was glad we didn't have to attempt this!
I then asked him how he had seen the snake. It was dark – nighttime-Africa dark. The only weak light was provided by lanterns. Deon told us that he hadn't seen it – he'd heard the scales as the reptile slithered across the concrete pad. We all made Deon check our tents before we retired that night. I understood then why there was a porta-potty in each tent. The others placed their wee toilettes just outside the tent flaps and readied them for use. I asked for a bigger flashlight so I could properly illuminate the pathway between my tent and the toilet. Not even a snake could make me want to pee inside (or just outside) my own tent. Besides, I reasoned, they're more scared of me than I am of them, so if they hear me, they'll get out of my way. I'm sure the others didn't like it when I yodeled and otherwise split the utter silence of the night to announce my presence to any nearby reptiles as I made a bathroom run or two. Surely, they were so scared by the puff adder incident that they weren't sleeping anyway.
The next morning, Deon and the camp worker showed me the late snake. It was about 6 feet long. I have a photo somewhere… I had a brilliant idea. Could they skin it for me, as long as it was already dead, so I could have the ultimately cool hatband for my safari hat? I think the camp worker would have done it. Deon was hesitant, because it needed somewhere to dry / cure. I opined that it could go with me under my seat in the airplane, or even on top of the luggage. This brilliant idea was vetoed by all the rest of the party, no matter how much I begged and pleaded.
Spoilsports. So, off we went to the next amazing stop to see ship skeletons, colonies of 10,000 plus Cape Fur Seals, hyenas, and other amazing sights, without a nifty hatband for moi. A puff adder hatband would have been the coolest of the cool souvenirs. And light, too! I'm still irked that I had to leave the snakeskin behind. In Woman vs. Wild, woman was victorious. But, you only have my word for it…
We never did spot the elusive Skeleton Coast elephants.
http://www.cnn.com/2013/11/22/travel/namibia-skeleton-coast/