I took the hounds out about an hour ago. On my way to bed, I stopped in the Broad Cave to check email and glance at the Book of Face.
Lacey came in with me, rolled up into a tight coonie ball, and went to sleep. Koa went to the dog bed by the window. It gets full sun in the morning, and it's a favorite spot for the resident canines.
Apparently, Koa grew weary of having to lie there, so he pranced his bob-tailed arse into my cave and started barking at me. He's a big dude, so he was right in my face, showing his extreme ire at something. I got up, followed him out into the hallway, and down to our bedroom. By "our," I mean the room that belongs to William Simpson and me! Koa stood in front of the closed door, and threw me a withering glance. Actually, he threw me a disdainful glance over his withers…
I closed the bedroom door this morning as I left for work. I had a long day at the office, and didn't make it upstairs until after 9PM. Koa was distressed that he could not get into the bedroom. He reckoned that he waited long enough, got tired of my dilly-dallying, and decided to rectify the situation.
I opened the door to the bedroom. Before I could offer my sincere apologies for being a bad dog mom, Koa trotted to his bed heaped high with fluffy throws, and threw himself into with a grunt.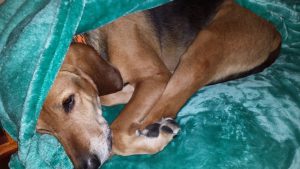 He is such a demanding weirdo.
4 December 2017